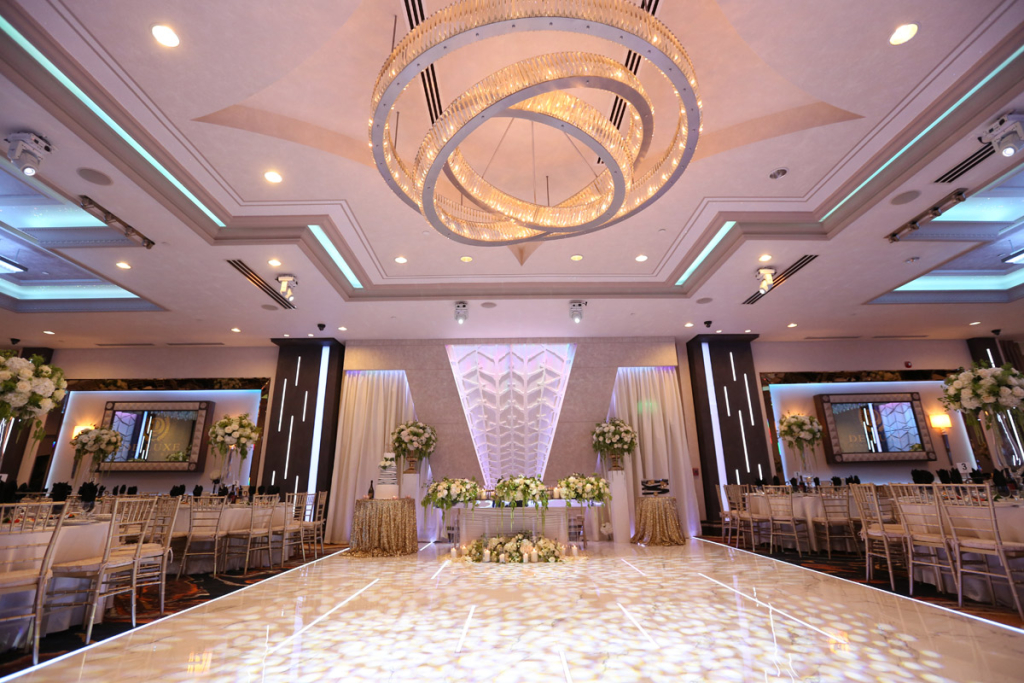 De Luxe Banquet Hall
A High-End Los Angeles Banquet Hall
Whether you're looking to plan a large event or a smaller gathering, De Luxe Banquet Hall is the perfect event venue in Los Angeles for you to choose. With two differently-sized venues to choose from, we've got you covered from weddings to birthdays to business conferences. We have our ballroom which can fit up to 400 of your distinguished guests as well as our lounge for smaller gatherings of up to 50 people. Or you can choose to book both if you would like to create two separate themes or perhaps a separate area for guests to "get away" for a few minutes. At De Luxe we help guests celebrate those special moments in life that requires a professional touch! Book your next event with us and we'll make sure you and your guests make everlasting memories.
Address:
237 E. Olive Ave. Burbank, CA 91502
About The Venue
Every client has different needs and at De Luxe we're proud to offer our guests with different options that they can choose from. Our staff has experience helping clients with everything from weddings to anniversaries to engagement parties to fundraiser galas and everything in between. Both of our venues offer a timeless style with modern touches throughout. Since every event and client is different, our venues can be completely customized to your liking in order for you and your guests to have the perfect experience. Our in-house catering department will work with you to create a mouth-watering menu of all your favorites. No need to worry about the planning process as our staff can assist you in your planning and decorating process while offering you access to our list of professional event vendors.
Amenities
We know that every guest and event has different needs so at De Luxe our staff makes it a point to ensure all your needs are met. We offer amenities such as:
▪ Room for 400 guests
▪ Customizable decor and furnishings
▪ World-class in-house catering
▪ State-of-the-art customizable LED-lighting system
▪ Two large screens to project videos and images
▪ Smaller lounge area for guests to take a breather and relax
What can I say?
I have celebrated my birthday at the Deluxe Banquet Hall, Deluxe Lounge or Olivia for the last three years! I have celebrated other family and friend functions at this location including my children\'s Christening and my family only plans their events at Deluxe! Thank you for making our events so special. You food is great, your service is the best and your hall is beautiful! The spinning chandelier is one of a kind for sure! Second to none!
Thank you!
Dianna
We had our 5th Annual Armenian Public Service Employee Gala at the Luxurious Deluxe Banquet Hall! It was a full crowd that was amazed all night long with the design, the service, the food, and special attention to detail that was given. Deluxe Banquet Hall ownership, management and staff are nothing short of amazing! Their service is above and beyond what is expected. I know many people didn\'t waste any time inquiring about future bookings at one of the three great halls.Even though our party was as organized as can be, it would not have been the same if we had chosen any other location. Deluxe Banquet Hall helped make this 5th Annual the best event so far! We will definitely be referring all of our friends and family and be returning for all of our future events!
Thank you to Deluxe Banquet Hall Ownership/Management!
Harut Y.
I would like to start off by saying \"Thank You So Much\" to everyone at De Luxe for making our Wedding Day everything we could ever dream of! It
came out so Beautifully perfect and that is Thanks to Albert & Raphi . We got so many compliments from our guests saying that the Banquet was one of the most Gorgeous Venues they\'ve ever seen and how much they Loved the Food !! Everything went over so perfect our Wedding Night… So again Thank You so much for helping in making our Wedding
day PERFECT. Love, Serene & Michael Kaczor
Serene and Michael K.
We celebrated our moms-grandmas 90th birthday at De Luxe and we are so grateful for Albert & Raffis help for making that celebration a very memorable. Three weeks later and everyone is still raving about it! The venue is beautiful, our friends and families kept taking pictures in front of the curtains and wall decor. Everyone enjoyed the delicious food and the staff was very attentive and kind as well. We look forward to working with them again in the near future. Thanks to everyone who contributed to making that night one we will never forget!
Calderon Family
I had my engagement party at De Luxe and let me tell you everybody fell in love with the hall. The food was delicious, the service was outstanding, and the decor was so lush and elegant. People will not stop telling me how gorgeous everything was. Thank you De Luxe for making my occasion so beautiful and fun!!!! I will definitely be having more parties here to come!!!
Sandrita
More Event Venues You May Consider