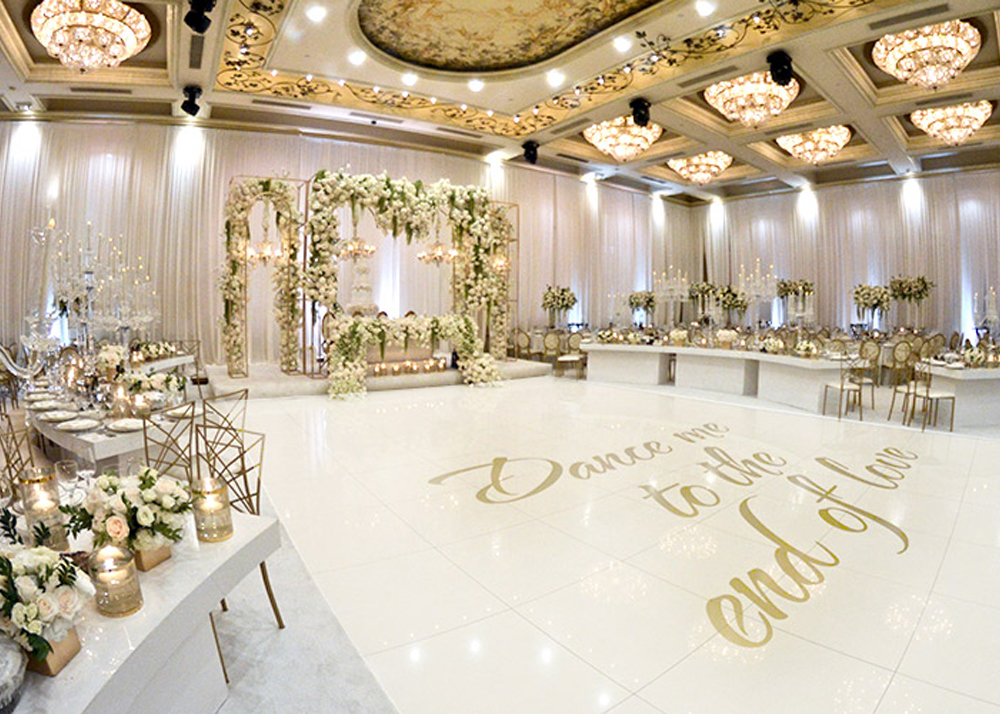 Grand Ballroom At Renaissance
Enchant Your Guests at One of the Most Romantic Banquet Halls in Los Angeles
One of the most romantic banquet halls in Los Angeles is the Grand Ballroom at Renaissance. With extravagant arches, twinkling chandeliers, gorgeous curtains, and custom stonework, the Grand Ballroom is nothing short of enchanting. When you celebrate here, you and your guests will truly feel like royalty. Located in beautiful Glendale, the Grand Ballroom at Renaissance offers a luxurious, old-world atmosphere that brims with classic elegance. We are proud to offer our clients the absolute best in surroundings, catering, staff, and service.
Address:
1236 Central Ave., Glendale, CA 91204
About The Venue
At Metropol's Grand Ballroom, we pride ourselves not only on providing a beautiful, European-inspired space, but also the absolute best in service for our clients. When you work with us, you get access to our vetted event vendors, which can make your planning process much easier. We offer full catering service, and our waiters are the best in the industry. Grand Ballroom offers the best of everything!
Amenities
Grand Ballroom at Metropol was designed with you in mind. Our amenities will help your event go just the way you want. These amenities include:
• Space for 450 guests (with tables)
• 1,000 square foot dance floor
• State-of-the-art LED lighting system with spotlights
• Stage for entertainment
• Fog machine and smoke effects
• Bridal lounge
• Large foyer with European-inspired fountains
• HDTV for guest seating chart
• Projector screen for video and images
I had my wedding here and this venue is just gorgeous!! Everything went so smoothly and well. Edgar was a huge help and gave great suggestions. The food here also is amazing and they even let us take the leftovers. The servers were great and very attentive. I didn't hear a single complaint from my guests. I highly recommend this venue.
Lina C.
Just got married and used this hall, and may I say they are the best! Its beautiful and the food was just amazing! Edgar helped so much thru out the process, I could not have imagined having a more perfect wedding and it was thanks to the people that work here! I am so pleased and beyond words! Thank you Rennaisance for making my wedding an unforgettable one!
Elizabeth B.
We did an event here over the weekend. They were the best. The food was great and the service was fantastic. This is probably our 4th event there and my entire family uses them only. If you are looking for quality great service hall be sure to call them. I cant say enough good things..
Diana S.
I just got married two weeks ago and we had our reception at Renaissance. I'm so happy with their service staff and especially Edgar the manager. Planning a wedding is already in itself stressful so I really appreciated how easy going and accommodating Edgar was.
I've been a guest to many weddings at Renaissance so I knew right away I wanted to have my reception there because the food is delicious,  waiter staff is on point and its beautiful
I highly recommend Renaissance!
Carlene C.
We had our wedding here a few weeks ago. Planning couldn't have been more simple. We decided to go with the family style food option and was more than plenty. Food was delicious and our reception was gorgeous. The servers and Edgar our coordinator were all VERY helpful through-out our wedding planning process. Our wedding was everything we asked for and more.
Thank you so much, Renaissance for making our wedding day a dream!
Lauren J.
More Event Venues You May Consider