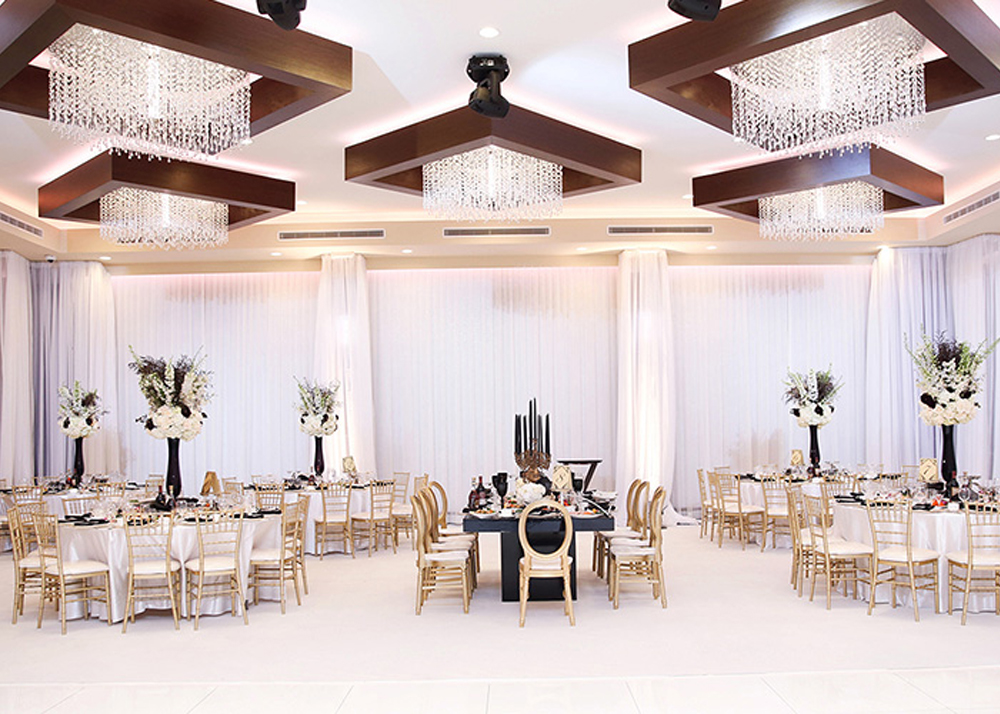 Millennium Ballroom At Metropol
Make Memories to Last a Lifetime at Our Dramatic and Modern Los Angeles Banquet Hall
The Millennium Ballroom at Metropol has the ability to look like something out of a romantic fairy tale for a wedding or quinceañera, and it can just as easily look cutting-edge and upscale for a company gala event. It is very versatile in order to meet the vision of our clients, but always stunning. We also provide customizable amenities, excellent catering options, and service that goes above and beyond. From our shimmering chandeliers overhead to our gorgeous white dance floor below, the Millennium Ballroom offers elegance and glamour.
Address:
701 S. Central Ave., Glendale, CA 91204
About The Venue
From wedding receptions to anniversaries to corporate functions, Millennium Ballroom has everything you could want to carry out your big event. As one of the most unique banquet halls in Los Angeles, Millennium is the perfect place to create memories that you'll never forget. Located in beautiful Glendale, our team of professionals is here to help you every step of the way when planning your event.
Amenities
At Millennium Ballroom, you'll have everything you need to bring your unique vision to life. Some of our amenities include:
• Space for 300 guests (with tables)
• Bridal lounge
• Sweetheart table
• 3,500 square foot ballroom
• 600 square foot dance floor
• Large foyer
• Stage for entertainment
• Elegant water fountain
• State-of-the-art LED lighting system
• Multiple sparkling chandeliers
• Projector screen
• HDTV seating chart display
Had my wedding here on 3/3/18 in the smaller room, Millennium ballroom. Edgar, the venue manager was amazing. Edgar was accommodating and kind. I would highly recommend having any large events here. My now-husband and I looked at a lot of venues but this one was the one worth every penny. My advice, get the white carpet, especially for the Millennium ballroom. The white carpet cost a few thousand dollars but so worth it because it gave the ballroom a more elegant touch. Thanks, Edgar, and staff for the wonderful experience, it was definitely the best day of my life.
Lina R.
The best reception hall in the Los Angeles area. Very modern ballroom and professional team. Food is absolutely amazing. Our guests are still taking about the food and how delicious it was. So happy we chose Metropol (Millenium ballroom) as our wedding venue. Highly recommend. Edgar and Hrach are so professional and know their job. 10+
Loved, loved everything about it 🙂
Lilit B.
I have a lot of great things to say about this banquet hall.
My husband and I had our wedding at the Millennium ballroom, five months ago.
The manager is friendly, honest, and thoughtful. Everything he promised us was delivered. We went to a few banquet halls before Metropol and we did not get the same vibe from their managers.
The staff is overall just so wonderful. During our wedding, there was a moment where I sat down and the whole room was spinning. Right away the waiter ran and got me water with sugar to make sure I wouldn't faint. He came by so many times to check up on me.
The food at Metropol is AMAZING! I didn't get to eat much but I got a lot of great feedback from my guests.
Thank you guys for everything. We will definitely be using this banquet hall again for our future events.
Meg S.
Metropolis a state of the art banquet hall with a very modern touch. My wife and I hosted our wedding at Metropol over a year ago and were extremely satisfied with Metropol's management, staff, and the valet service. A year later, we attended a friend's wedding and sure enough, Metropol's management team remembered us. To top it off, a surprise champagne fruit platter was brought to us as an anniversary gift compliments of Metropol Management. Everyone at Metropol always goes above and beyond to provide extraordinary world-class service. Thank you, Metropol!
Shant C.
My wife and I are thrilled to have chosen Metropol banquet for our special day! (We had the Millennium Ballroom.) This place is fancy and really nice. We couldn't be more thankful to Edgar and his team! From the day we booked till the day of our Wedding Edgar was on top of everything. The food was amazing and there was enough for everyone to have seconds or even thirds. Throughout our whole wedding, he(Edgar) was there checking that everything was coming out great. Everything came perfect, we couldn't have asked for something better. I'm coming back here for our 25th anniversary!
Thanks again Edgar and Metropol Banquet team!
Frankie M.
More Event Venues You May Consider