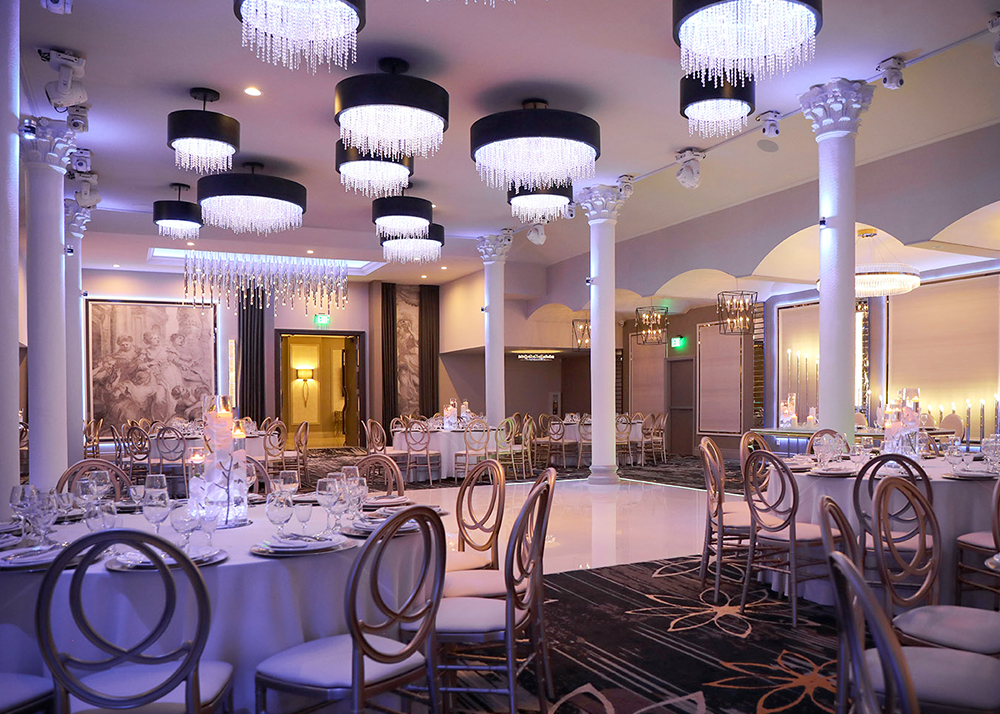 Étage Event Venue
An Enchanting Banquet Hall in Los Angeles
Welcome to Étage Banquet Hall in Los Angeles! Our roomy and alluring setting is perfect for gatherings with up to 300 guests. Our attentive crew will make sure that your event is planned to meet all of your needs, making your big day unforgettable. Explore our space to discover why Étage is the best banquet hall for a memorable event! We have everything you need to make your event special, from a stage for presentations to a dance floor for celebrating. Our delicious catering options will make sure your guests are satisfied, and our on-site parking will make it easy for everyone to get to and from the banquet hall. Contact us today to start planning your event at Étage Banquet Hall!
Address:
6740 Corbin Ave. Reseda, CA 91335
About The Venue
Étage Event Venue is the perfect place to celebrate your special day. With customizable amenities and a state-of-the-art layout, our event venue in Los Angeles will create the perfect ambiance for you and your guests. This captivating event venue is the optimal place to capture the best memories with your loved ones. From weddings to anniversaries, graduations to baby showers, Étage Event Venue will fulfill all your needs to make your day magical and remarkable. Contact us today to learn more about how we can help make your event one to remember!
Amenities
No matter the theme or style of your event, our team ensures that all your needs are satisfied with our fully customizable amenities. Our amenities include:
• A 3,800 sq. ft ballroom
• Spacious foyer
• An outdoor patio
• Dazzling chandeliers
• Color-coordinated LED lighting system
• White marble tile dance floor
• Bar station
• LED wall video screen
• Entertainment stage
• Private bridal room
• Free Wifi
• Valet and self-parking
I had my wedding here in November and let me tell you! All my guests couldn't stop talking about the quality of service, quality of food, and the beauty of Etage Venue! I LOVED having my wedding here. Serj is the manager/coordinator of events and he made our process so easy and so fun. My husband and I are so thankful for him because there was nothing that we asked for that was too much for him to handle. He was so professional and also knew how to celebrate with us. We love you Etage and Serj! 1000/10 recommend!
Nina E.
Hosted a quinceañera for my daughter here. The venue is beautiful and clean. We received tons of compliments on the service and food. It's both delicious and plentiful. David was the best! Made sure every detail was taken care of and checked on us throughout the night. He made it such a pleasant experience.
Stephanie L.
We celebrated my son's 25th Birthday. We had an amazing time, enjoyed delicious selection of appetizers and main courses, experienced very high quality service and had a chance to interact with very educated and knowledgeable staff and management. It was a beautiful atmosphere, gorgeous and elegant design, very entertaining and acoustical set up. I highly recommend for small or large celebrations.
Hasmik S.
Etage is a beautiful venue for all events. The decor in the hall is modern and can accommodate to many themed parties. The food is great and so is the service! It's difficult to find a hall that has all aspects from good food to decor, so I would highly recommend this hall! You will not be disappointed. I have been to many events here, and I am planning to do any future event that I will be hosting at this hall!
Lara B.
Been too many venues in the Los Angeles area but Etage banquet hall definitely stands out. The food and staff were amazing. One dish was better then the next and the service was second to none. The venue is very modern and offers plenty of customized lighting options for whatever theme you're going for. I would highly recommend Etage banquet hall for your next event!
Hakop K.
More Event Venues You May Consider