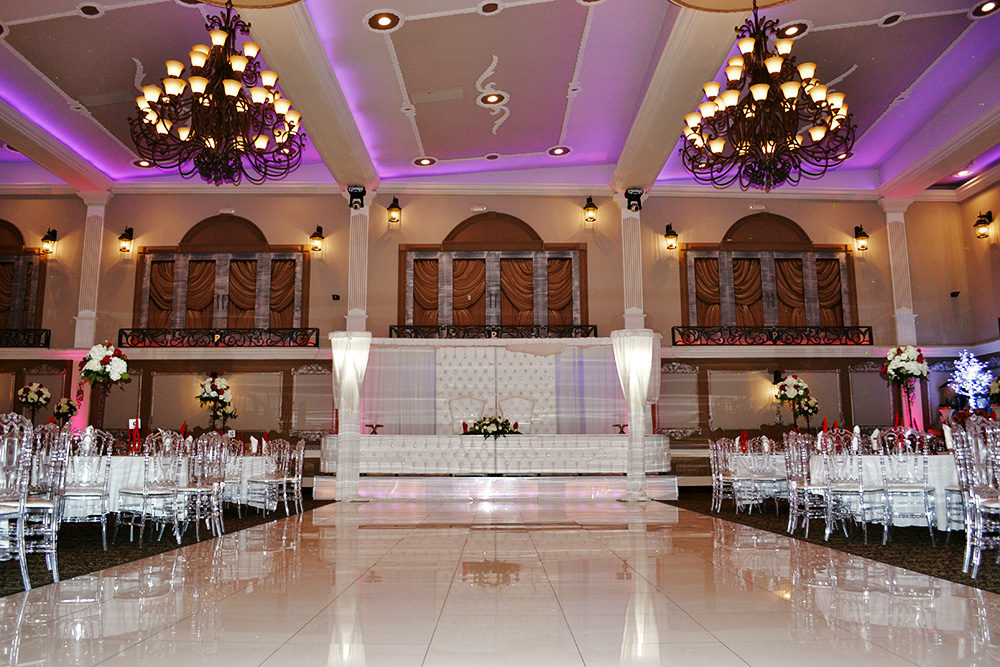 Platinum Banquet Hall
A Luxurious Los Angeles Banquet Hall
Plan your party from beginning to end with Platinum Banquet Hall, a stunning banquet hall in Los Angeles. Our high ceilings and open floor plan create a warm and inviting environment for you and your guests. Our event venue is able to host everything from weddings to birthday parties to corporate events. We've designed Platinum to be versatile so that your imagination can run wild when planning and designing your upcoming event. Our in-house catering service will blow your taste buds away with authentic flavors that you and your guests will love. Contact Platinum Banquet Hall for your next special celebration.
Address:
8704 Van Nuys Blvd. Los Angeles, CA 91402
About The Venue
Be confident in your decision to choose Platinum Banquet Hall. Our staff has years of experience helping to plan and host a wide variety of events for our guests. We're known for providing guests with impeccable and above-and-beyond service to ensure that every minute detail is to your liking and taken care of. After all, this is your special event, so no detail is too small for us to handle. Our in-house catering service is staffed with professional chefs that have experience making authentic and internationally-inspired cuisine.
Amenities
Your special event should be done just the way you like it. That means providing our guests with a number of unique amenities such as:
▪ Personal event director
▪ Ability to stay open later than the rest
▪ Fully customizable decor and lighting
▪ Customizable table setting options
▪ Valet parking
▪ High ceilings
Beautiful hall I have to say.  The food was amazing and the service superb.  The minute we booked the place for our wedding celebration there was never a no for an answer.  I definitely recommend the place to friends and family. We really used the big screen to show our dating videos during reception "walk down the memory lane" everything went smoothly and timely.  🙂 It was the wedding I dreamed of. Thank you Platinum and staff for making my guests leave happy :).
Mary S.
Beautiful banquet. Had a great experience ! Great service and the venue was just beautiful. I recommend this banquet to whoever is trying to have the best and an amazing time !
Nikki P.
Platinum Banquet Hall is an excellent place to celebrate and kind of big event. The team is very experienced and they helped us a lot.
Their food is just excellent. There are about 7-8 hot entrees and a huge selection of salads. The restaurant decoration and theme is very elegant.
I totally recommend this place.
Victor H.
I had my Wedding here last summer and words can not describe how satisfied I was with everything. Everything tasted amazing, the lighting effects are indescribable, let me not get started with the service. The service here was like no other. Highly recommend!! This hall is a must see, you wont regret it. I have no regrets and I promise, you wont either!!
Christina V.
I was invited to a wedding here last week. I am a big fan and have been telling everyone about it since. Their inside decor was very elegant. Their lighting gives the hall a great look during the party. I felt like I was at a concert who spent a lot of money on lighting. It is just beautiful. Their service was great too. Waiters/waitresses were very attentive to the tables. I felt like my cup of coke was never drank from. Every sip I took, they were there to fill it back up. Their food was GREAT! I am a huge fan of Mediterranean and they have what it takes. Great place! I am waiting for a big event so I can use this as the venue.
Rafael V.
More Event Venues You May Consider